The Boathouse Bash 2006
One week later.
My body hurts.
Still trying to recover.
Great times.

*****
This was my 3rd Boathouse Bash and I had a great fucking time. I can remember the first one like it was yesterday. Who could forget the Running of the Lewey?
Myself, BG, Pauly, and Carter were there that year. That was the first time I met some of AlCan'tHang's crew: Eva, Big Mike, Lewey and Landow.
Al and Big Mike both told me then that the Bash was a marathon. No lightweights need apply. I didn't listen that day. I did a piss poor job at pacing myself and puked on Landow's lawn. His landscapers still crack jokes about me. I was in bed by midnight. That was 2004.
In 2005, I did a much better job at managing my stamina. I lasted the entire night and saw the bar close. I think the large amount of naked boobies that night helped me cross that finish line.
This year, I was a veteran. It wasn't my first rodeo. I knew how to finish the race. I saw the lights come on at Boathouse once again this year. I made it to the end of the party and I didn't puke. Commence pat on back.
Unfortunately, my body is still hurting and I'm paying for it. I've been falling asleep at 10pm every night this past week. I'm normally a 1am or later kind of a guy. Am I getting old or did I just shave a few more years off my life?

*****
Big Mike and Al were great hosts as always. Many thanks to the both of them for the great job they did in pulling this entire weekend/event off.
Once again, it was great to party with Al, Eva, Big Mike and the Philly crew.
Highlights of weekend:
-Sore loser.
-The All-Lewey team . . . . nuff said.
-Two great charities.
-Beer Pong.
-Brandon "the Ringer" Schaefer.
-The Rooster is a pimp. It was great road tripping with Pauly and the Rooster.
-Butt grabbing.
-PA College girls.
-Slutty NYC bartenders.


-Flagstaff's Tequila shots.
-Eating at Bobby Flay's (Borgata) and the Palms (Manhattan).
-Hmmmmm . . . Filet mignon.
-TJ Cloutier and the Borgata craps table . . . nuff said.
-Another Pabst Blue Ribbon please!
-Four day bender, 3 states.
-Peyton Charity . . . the Luckbox wins!
-ACH and Big Mike rule!


-Sweet sweet Pablo.
-Naked boobies.
-Losing a prop bet to BG. F-Train is actually confirmed as 130 pounds of fury.
-Spaceman = my car guy.
-Wardrobe changes by Speaker.

-Hear that ladies?
-High Card out of the muck.
-Two words: Gavin Smith.
-Hmmmmm Cheesesteaks.
-Naked Canadian boobies.
-Notre Dame over Michgan St.
-The Lewey challenge. In less than 90 seconds, Lewey downed a shot of tequila, an Irish Car Bomb, and a pint of Bass Ale.

-Late night Wawa runs.
-Drizz's Water.


-Going south on CJ for $20. I took some cash off the table by mistake. Oops!
-Viva la Donnie and Kenny!
-Sweet sweet Gracie.
-Bobby Beer Pong.
-Yogi's.
-The Top Gun shot.
-Mardi Gras Beads.
-Chicken fried steak and biscuits.
-Badblood and Brandon Schaefer are the real Beer Pong champs.


-Awesome Borgata suite.
-2.5

-Borgata dealer asking me for Fantasy football advice.

*****


Miscellaneous Hijinx:
Pauly was so drunk Friday night that Flagstaff had to drive our rental car back to the hotel so we could play in the BG Invitational.
Walking into the Boathouse bathroom and seeing Drizz getting ready to puke in a trash can. Drizz was "in the position" and the lone stall was occupied. At that same moment, FTrain spitting up in an urinal. It was one of those spit pukes. He looked over at me and goes, "that SoCo shot went down the wrong way."

While playing at a $3/$6 limit table at the Borgata with several bloggers, some local guy called Stb a "sore loser" and a tourist. This local called a 3 bet preflop with 8-4o and cracked Stb's hand with trip 8's. Stb wasn't happy and let the guy know. He responded by calling Stb a sore loser and a tourist. Then the local guy started shaking uncontrollably when the Rooster threatened him. Funniest. Moment. Ever. Stb might be a sore loser but he's still the reigning Good & Plenty champ!

I flopped a set of 6's against CJ's set of 9's in a cash game. The board read 6-9-J and I fired out a huge re-raise on the turn and CJ folded. I got him to lay down the best hand. NL Crazy Pineapple rules! Later on, I lost my stack to CJ when I ran into his Aces. Doh! Damn those Hilton Sisters!!

*****


Classic Quotes:
Tripjax said, "I love my son. He's the coolest white dude I know."
The Rooster said, "I rubbed this chick's finger when I shook her hand and I think I made her cum."
Gavin Smith: "Why do they call you AlCan'tHang? You drink more than me."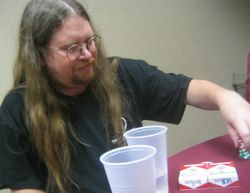 ******
All Lewey Team (courtesy of Pauly):

F Train
Gavin Smith
Trip Jax
Maigrey
Drizz


*****

That's pretty much it in a nutshell. The party was great. The music was great. Badblood's guns are still huge. The weekend was capped off with a big win by the Jets. They beat the Bills 28-20.
Thanks to AlCantHang and BigMike for an amazing weekend. You guys rock!
The Boathouse Bash was crazy as usual. It was great to be around everyone for a few days. I had a blast and can't wait to party with everyone again.
Great conversations.
Hilarious times.
Wonderful group of people.
Awesome trip.